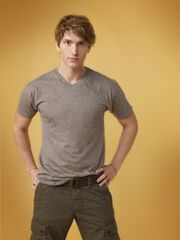 Benjamin Stone (born April 3, 1987) is an British actor best known for his role as Alek Petrov on The Nine Lives of Chloe King.
Stone is also known to audiences as Blank on 10 Things I Hate About You. A successful voiceover actor, Stone has lent his talents to several Harry Potter video games including Prisoner of Azkaban and Quidditch World Cup.
Born in Kingston, Surrey, England, Stone got his start in stage productions including The Dreaming and Pendragon. He also appeared on the BBC series Randall & Hopkirk.
Stone attended Epsom college, a well known British boarding school where he was involved in the performing arts; acting in plays, singing in concerts, and writing his own comedy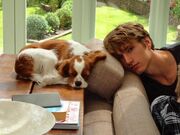 sketches for the school's variety shows. Once Stone left Epsom College he enrolled in the One Year Foundation Course in Acting at 'Arts Educational' in London. He then found himself privileged enough to gain a place on the 3-year BA (Honors) course in Musical Theatre at the prestigious 'GSA Conservatoire'. His participation in this program eventually led him to make the decision to move to Los Angeles.
He has a twin, named Lucy Stone.
His favorite sport is tennis.
He has a maltese/poodle dog named Harvey (born on July 4th), which Skyler Samuels loves very much.
His favorite color is blue.
He has a girlfriend at the moment, named Kamilla.
His twitter is BenJSton
He is very attractive.
His favorite band is Incubus.